Vernissage of art KARLSRUHE 2023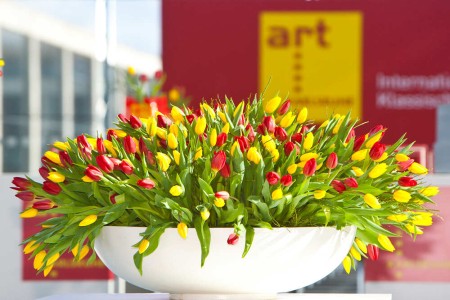 The vernissage of art KARLSRUHE 2023 will take place on Thursday, 4 May 2023 from 11 a.m. - 8 p.m.for guests with invitation or the regular day tickets from the ticketshop.
The official opening ceremony of art KARLSRUHE will take place at 6 p.m.
Programme of the official opening ceremony
Moderation: Dr. Susanne Kaufmann
Musical accompaniment by Peter Lehel with saxophone quartet
Welcome by Britta Wirtz, Managing Director of Messe Karlsruhe
Dr. Frank Mentrup, Lord Mayor of the City of Karlsruhe
Stefanie Plattner, Hasso Plattner Foundation ('Werk statt Sammlung')
Olaf Zimmermann, Managing Director of the German Cultural Council ('Kunstmarkt – (k)ein Thema der öffentlichen Kulturförderung')
Words of thanks from Ewald Karl Schrade, curator of art KARLSRUHE
Free shuttle services
The City-Shuttle of the Hirsch Reisen Company provides roundtrip service between the fairground and the city centre.
The Messe-Express provides roundtrip service directly from Karlsruhe's main railway station to the fairground.