The Museum Mile for exhibitors
art KARLSRUHE's Museum Mile offers cultural institutions (such as museums, art associations and foundations, as well as culture tourism) a platform for sharing and utilizing the synergies of an international art fair as exhibitor. Eingebettet in die Halle 1 neben Galerienständen zu Editionen und Fotografien sowie Sonderausstellungen zeigt sich die Museumsmeile der art KARLSRUHE mit attraktiven Informationsständen. Hier können sich gut 40 ausgewählte Einrichtungen der Kulturlandschaft Karlsruhe wie auch Kulturinstitutionen aus dem gesamten Bundesland und angrenzenden Regionen als Aussteller präsentieren. Internationale Aussteller kommen beispielsweise aus Frankreich und der Schweiz.
Finden auch Sie hier als Aussteller Ihr interessiertes Zielpublikum!
You want to exhibit?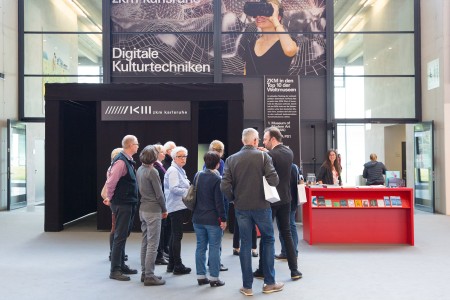 In order to make the presentation as comfortable as possible for you as exhibitor, the information stands of the Museum Mile already contain a stand construction and marketing package in addition to the stand area. Possible stand sizes vary from 9 to 24 square meters.
The presentation and sale of originals / editions / graphics is not permitted in the area of ​​the Museum Mile. It is a pure advertising platform for the institution and its exhibitions, but not for individual artists. This is reserved for the galleries at the fair. The organizer decides on the admission to participate in agreement with the curator.
The application process
For your application for the admission procedure of art KARLSRUHE, we kindly ask you to submit the fully completed and legally binding registration form together with informative information material about your institution.
The applicant will be notified in writing of any conditions for admission and become binding upon receipt of written notification of admission.
The exhibition contract does not become legally binding until notification of admission is given.
The deadline for registration is 15 October 2018