Dealing with the Coronavirus
The safety of our visitors is a top priority for Messe Karlsruhe. Our protection and security measures have been developed in close coordination with the responsible regulatory authorities. They are regularly reviewed and adapted to the dynamic situation.
The new Corona Ordinance has been in force since 3 April 2022. Extensive protective measures are no longer required; the new Federal Infection Protection Act stipulates that masks must be worn in local transport and in the medical sector. Contact and capacity restrictions as well as data collection and access regulations at events are thus lifted.
Messe Karlsruhe continues to recommend wearing a protective mask (ideally an FFP2 mask) indoors on the grounds of Messe Karlsruhe.
Safe Expo Siegel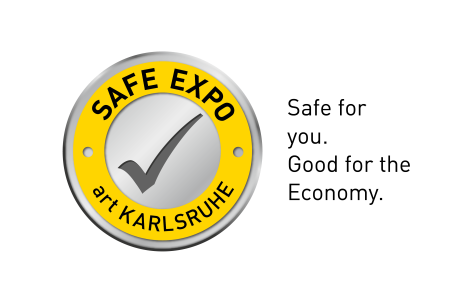 In cooperation and close coordination with the responsible regulatory authorities, we have developed protection and safety concepts that are applied at all events. This is what our SAFE EXPO seal stands for.
Especially now, in times of immense economic challenges, it is important for us to move even closer together with you. Once again, this shows that we are at your side as a reliable and flexible partner.
Transparency, open cooperation and our health come first for us. Therefore, we provide you with information on the hygiene and safety concept and summarise the most important requirements of the authorities for you.
Of course, we are also there for you personally and in our social media channels (twitter, facebook, YouTube, Instagram). We hope to be able to answer many questions. Please do not hesitate to contact us if you have any further concerns or if individual points have not been observed.
We are looking forward to the dialogue and will be happy to assist you. Hope to see you again in july. Till then take care of yourself and stay healthy!
Your art KARLSRUHE team
Please note: The dynamic development of the pandemic situation does not allow for any reliable predictions. The FAQ's are constantly updated by Messe Karlsruhe in case of changes in the general conditions.
Status 4.04.2022